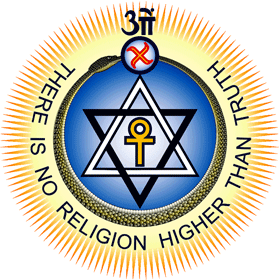 September 2005 Newsletter
The following articles are reproduced from the September 2005 Newsletter to members. Non-members may or may not be able to relate to the contents.
Significance of The Theosophical Society
"Think you truth has been shown to you for your sole advantage? That we have broken the silence of centuries for the profit of a handful of dreamers only? The converging lines of your karma have drawn each and all of you into this Society as to a common focus, that you may each help to work out the results of your interrupted beginnings in the last birth. None of you can be so blind as to suppose that this is your first dealing with Theosophy? You surely must realize that this would be the same as to say that effects came without causes. Know then that it depends now upon each of you whether you shall henceforth struggle alone after spiritual wisdom thro' this and the next incarnate life, or, in company of your present associates and greatly helped by the mutual sympathy and aspiration. Blessing to all—deserving them."
The Master K. H.
Membership Renewal
We are truly appreciative of your support. You have supported the Singapore Lodge Theosophical Society in various ways. Some of you have volunteered as co-workers of our lodge, helping in the management and running of the T. S. in Singapore. Others have made it a point to come regularly for lodge meetings, thus helping to generate beneficent thought powers with far reaching effects and making the lodge a vibrant spiritual centre. Some have donated generously to our coffers. Still, a large percentage of members have not been able to participate actively in the activities of the lodge for one reason or another. Saturday, although the preferred day for lodge meetings for most members, is not the best day for others. Unfortunately, some members have other commitments on Saturdays and are therefore unable to come for lodge meetings. Indeed, we realize that there is no 'perfect' day that can suit all members. Over a period of time, mainly as a result of infrequent attendance, some members begin to lose interest or find themselves increasingly indifferent to our cause. These same members are the ones who are prepared to allow their memberships to lapse. We have lost many members this way.
We need members for very good reasons, not least of which is the financial support required. As our only means of subsistence is membership subscriptions, the more members we have the more viable we will become financially. In this respect, I am happy to say that we do have many members who remain sympathetic to our cause. Many of our members, though not active owing to other commitments, have found it worthwhile to continue paying their subscriptions year after year. Although we hardly see this group of members—shall we call them the invisible helpers—we are grateful to them all the same for their continued financial support. That is perhaps the next best thing that we may expect from members—renewal of subscriptions—if they cannot be with us physically.
It is that time of the year again—membership renewal time. Those members who have the Society's interest at heart and those who continue to relate to our cause will no doubt continue to support the Society financially, if not physically, by paying their annual subscriptions and continuing their membership. Those members who have not been coming to the lodge may alas wonder if they should or should not continue their membership with the Society. To those of you, my friends, who find yourselves in such a predicament, may I share some thoughts with you?
All of us joined the Theosophical Society for pretty much the same reasons initially. We had a strong interest in theosophical teachings or we could relate to the ideals and objects of the Society or we believed in spiritual philanthropy and the Society's cause. All these do not change simply because we do not go to the lodge anymore. Indeed, your support is required more than ever to ensure the survival of the lodge for posterity. In order that future generations will continue to be inspired and guided by Theosophy, we must all do our part to preserve this institution—the Theosophical Society.
Should you think about not continuing your membership, you may wish to ask yourself why not? Just because you don't have time to go to the lodge anymore? We know that is not a good enough reason, for if we cannot support the T. S. physically, we can certainly support it financially. Because you cannot afford it? At $69 per annum or less than $6 per month, the subscription is quite a nominal sum and should not be a problem for anyone who is gainfully employed. Even at the sacrifice of other things, it is for a noble cause. Consider it charity if you wish. Because you cannot relate to the ideals and objects of the Society? Try to recall why you joined the T. S. in the first place. What has changed? Certainly not the teachings nor ideals.
The Singapore Lodge Theosophical Society needs all the support it can get to carry out its role as a part of the great theosophical movement worldwide. Karma has brought you to the Society for whatever reason. We hope you will not sever this karmic link.
For those of you who do not wish to be bothered with the annual reminders, you may choose to renew your membership automatically by setting up Giro payments or by standing instructions through your own bank. More than 60 members have already made such arrangements. Your continued membership and financial support will most certainly make a difference to the lodge's viability. We are counting on your continued financial support!
Theosophical Retreat

Don't miss the opportunity to bond with other members at our forthcoming theosophical retreat which will be held this year at the Sebana Cove Marina and Golf Resort on 26 & 27 November. More than 40 members have already signed up—have you? The weekend together allows us to get to know each other better. We will also have the experience of working in teams for the workshop sessions. Thus we could explore the theme of the workshop, contribute and find resolutions as members of a team. This will be a refreshing change from the usual lectures and talks.
Talks by Dr. N. C. Ramanujachary


We are very fortunate that a distinguished lecturer, Dr. N. C. Ramanujachary will be spending the entire month of September with us in Singapore. So as to benefit fully from his visit our program for this month will focus on lectures and talks to be given by our visiting lecturer. We are indeed grateful to Bro. Raghava for sponsoring the visit and stay of his uncle Dr. N. C. Ramanujachary in Singapore which will no doubt be most beneficial to members of the Singapore Lodge.
Dr. Ramanujachary (born 1935) is a deep student of Theosophical History and Philosophy. He obtained his M.A. in Political Science, B.L. in Industrial and Commercial Law and his Ph.D. in Comparative Religion and Philosophy. He has been a member of The Theosophical Society since 1958 and is actively connected with the organizational work at the International HQ since 1979. He is a prolific writer and speaker on theosophical subjects.
He was a National Lecturer for the Indian Section of the TS for over 15 years and travelled widely over the country giving lectures, conducting Seminars and Workshops on Philosophy, Literature and Culture. He also presided over the Theosophical History Conference in London in 1989.
Dr. Ramanujachary's special areas of study are History and Philosophy of Theosophy; Madame H. P. Blavatsky, T. Subba Row and J. Krishnamurti. He is an accomplished short story writer in Telugu and in literary criticism on the genre. Many of his writings and critical reviews were also translated into English. He published more than 50 books in English and Telugu, comprising both fiction and non-fiction. Some of the titles include The Divine and The Human, An Enduring Philosopher, Seven Tones in English and Nirantara Satyanveshi in Telugu, Understanding Krishnamurti and Letters of T. Subba Row in English and Telugu Kathanika in Telugu.
Dr. Ramanujachary lives in Besant Gardens on the campus of the International headquarters of the Theosophical Society in Adyar. He is currently the Joint General secretary (Property Administration) and Director of Studies for the Indian Section TS. He is also the President of Madras Theosophical Federation.
This will be his third visit cum lecture tour to Singapore. Dr. Ramanujachary has consented to give a talk during our lodge meetings for each of the Saturdays he is in Singapore. In addition, he will conduct a five-part study class on 'Viveka-Chudamani' which is restricted to members. His talks for the month of September are as follows:
3/9/05—Forgotten Factors of Life and Consciousness: Unity and Brotherhood. Endrossed in mundane activity, humanity has forgotten about the basic factors of Life, "Radical Unity of the Ultimate essence of each constituent part of compounds in Nature" is the one fundamental law in Occult Science. Universal Brotherhood of Humanity without any distinction whatsoever, is the pragmatic corollary and an approach road to the concept of Oneness.
10/9/05—Many Facets of Theosophical Understanding: Understanding is at once both verbal and practical. Cosmic evolution and the special place for the human being in its center is the main theme of Theosophy. It is Science, Philosophy, Religion; and an integration of all approaches to find out Truth. Behavior and Belief are fused. Theosophical view of Life is the safe and steady path for one.
17/9/05—Significance of Theosophical Psychology (Intellect and Intuition): Being the fifth and sixth Principles of Human Consciousness, Intellect and Intuition are commonly alluded to Mind and Heart (Manas and Buddhi). Both need integration to invite Divinity to dawn , when Buddhi becomes the vehicle of the Ultimate principle. Theosophical philosophy elaborates the inter-relationship and inter-dependence of the two. The effort of the aspirant is to grow into an awakening of the new faculty by incessant effort coupled with Divine Grace.
24/9/05—Occult Philosophy of T. Subba Row: TSR was one of the earliest members of the TS in India. He contributed a lot to the formulation of theosophical philosophy. His exposition as to the classification of Principles, Cosmic and Human, happens to be the basic foundation of modern study. He was the first in TS to lay stress upon the method of studying Bhagavad-Gita and bringing up the factors of Occult Knowledge inbedded therein.
Before he returns home, Dr. Ramanujachary will give a talk on 'Annie Besant: A Most Wonderful Woman' on Saturday, 1 October 2005, to commemorate the birthday of the great leader who as an occultist and teacher inspired thousands of men and women all over the world in their spiritual lives.
Previous Home Past Issues Top Next