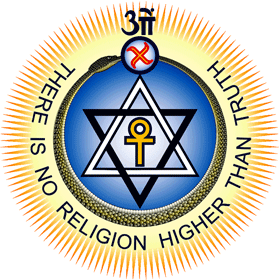 January 2006 Newsletter
The following articles are reproduced from the January 2006 Newsletter to members. Non-members may or may not be able to relate to the contents.
"May no further karma attach to those who have sinned last year in thought as well as in deed. Personally they are forgiven. Let a new year and new hopes begin for them."
The Master K. H.
Significance of The New Year
"...let no one imagine that it is a mere fancy, the attaching of importance to the birth of the year. The earth passes through its definite phases and man with it; and as a day can be coloured so can a year. The astral life of the earth is young and strong between Christmas and Easter. Those who form their wishes now will have added strength to fulfil them consistently."
Madame H. P. Blavatsky
"A HAPPY NEW YEAR TO ALL! This seems easy enough to say, and everyone expects some such greeting. Yet, whether the wish, though it may proceed from a sincere heart, is likely to be realized even in the case of the few—is more difficult to decide. According to our theosophical tenets, every man or woman is endowed, more or less, with a magnetic potentiality, which when helped by a sincere, and especially by an intense and indomitable will—is the most effective of magic levers placed by Nature in human hands—for woe as for weal. Let us then, Theosophists, use that will to send a sincere greeting and a wish of good luck for the New Year to every living creature under the sun—enemies and relentless traducers included. Let us try and feel especially kindly and forgiving to our foes and persecutors, honest or dishonest, lest some of us should send unconsciously an "evil eye" greeting instead of a blessing."
Madame H. P. Blavatsky
New Executive Committee
Our 2005 AGM was held on 17 December 2005. It was well-attended with 67 members present in person, which is more than the required quorum, and 34 through proxies. The following office bearers and members of the new executive committee were elected without contention.
President: Chong Sanne
Vice President: Kam Chai Heng
Secretary: Lily Chong
Asst, Secretary: N. K. Rajarh
Treasurer: Tang Kwok Choon
Asst. Treasurer: Vivekhananthan M.
Librarian: Nancy Yeo
Asst. Librarian: Choong Tsui Wei
Committee Members:
N. C. Raghava
Lee Suit Fun
Djimmy Ong
Choong Chi Pin
January Programme
We start the year with a number of talks in the month of January which may be of special interest to members. Indeed, these talks are restricted to members and are given only once a year, normally in January, if only for the benefit of new members. The talks which include computer-based illustrations are continually being updated either with additional information, graphics or pictures as they become available. All earnest members and students of theosophy will find these talks both interesting and useful. Those who have attended these talks previously may find it worthwhile to refresh their memory and see if anything new has been added.
One of the annual talks is on the Purpose of The Theosophical Society. This talk reminds us why the Society was founded in 1875 by Madame Blavatsky and Colonel Henry Steel Olcott. More importantly, we are reminded of the words of the Great Ones on the true purpose of The Theosophical Society. Understanding the purpose of the Society is important if the Singapore Lodge, as a part of this great worldwide movement, is to contribute to the noble ideals of the Society. We must realize our specific mission. As this talk will be given on 21 January 2006 when we celebrate our 117th anniversary, you have one more good reason to come and join us in our celebration.
For those who are interested to know more about clairvoyants and psychic abilities, you may wish to attend the talk on The Nature of Psychic Abilities on 7 January 2006. In this talk we will realize that the unfoldment of psychic powers is a natural process in evolution.
Another annual talk which is intended exclusively for members is The Occult Hierarchy. As students of theosophy, we know that just as there are many below us climbing the ladder of evolution, there are also many above us, way ahead of the mass of humanity, who have achieved perfection—the Adepts. We also know that amid the seeming chaos in the world, there is perfect law and order supervised by the Inner Government of the World. In this talk we learn about the quest for perfection and the august fraternity of humanity who has reached the other shore—The Masters and The Path. This talk is scheduled for 14 January 2006. Don't miss it if you are a student of occultism.
Let's Celebrate Our 117th Anniversary
The Singapore Lodge Theosophical Society was formed by Col. H.S. Olcott on 24 January 1889. Many of us may not realise we have been in existence for 117 years! As a matter of fact, the Singapore Lodge was formed only 14 years after the founding of the parent Theosophical Society in 1875.
To commemorate this momentous occasion, we are gathering together on Saturday, 21 January 2006, to have an anniversary bash. On this day, we shall remind ourselves of the Purpose of the Theosophical Society and reaffirm our dedication to it . Diplomas of Fellowship will also be presented to the new members.
A real party is not complete without food—so there shall be food! This is one of our most important days in the year. Do come and join the merriment and rejoice together . Remember , it will be on Saturday , 21 January 2006 at 5 p.m.
2005 Theosophical Retreat
An account of the 2005 Theosophical Retreat at Sebana Cove Marina and Golf Resort on 26 & 27 November 2005 is given in our Retreat page.
Previous Home Past Issues Top Next