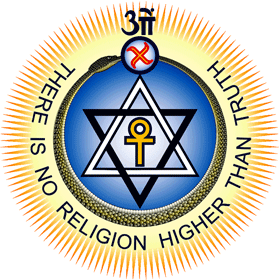 March 2010 Newsletter
The following articles are reproduced from the March 2010 Newsletter to members. Non-members may or may not be able to relate to the contents.
Who Was H. S. Olcott?
Reprinted from Colonel Olcott & The Healing Arts by Michael Gomes

Henry Steel Olcott was born in Orange, New Jersey, on August 2, 1832. He traced his descent from one Thomas Olcott, who had been baptized in London in 1613 and had emigrated to America between 1632 and 1635. Thomas Olcott settled in the new town of Hartford, Connecticut, about 1638, for he starts appearing in the town records for 1639. He was active in real estate, and had considerable success in mercantile and trading. He died sometime between 1653 and 1654 while on a business trip to the state of Virginia.
Henry Olcott was the first of six children of Henry Wyckoff Olcott and Emily Steel (sometimes spelled Steele, from whom he took his middle name). At the age of fifteen he enrolled at the University of the City of New York (now New York University) where he remained a year. He left the city for the Midwest, where he took up agricultural work in Ohio on a farm near his mother's relatives, the Steele brothers. They were to have a lasting effect on him, for, as he later wrote, "I may almost regard [them] as my greatest benefactors in this incarnation, since it was from them ... that I first learned to think and aspire along the lines which led me ultimately to H.P.B. and the Theosophical movement."
After some four years he returned east to study at the farm school started by Professor James J. Mapes in New Jersey. He went on to start his own agricultural school near Mount Vernon, New York, becoming an expert in a number of related areas, and receiving medals of honour from the U. S. Agricultural Society. In spite of his recognition, his school was forced to close for lack of support. He travelled to England in the spring of 1858, hoping to stay for two years attending agricultural lectures at a university and visiting other agricultural schools there before proceeding to the continent, but he was forced to return to America before the end of the year.
He now joined the staff of the New York Tribune as an associate agricultural editor. An example of the thorough scope of his knowledge of the field is shown in his reporting on a series of agricultural lectures delivered at Yale College in 1860, popular enough to be reissued as a book. His affiliation with the Tribune led him to other assignments, such as covering the hanging of the famous abolitionist, John Brown, on December 2, 1859, in Charleston, Virginia (now West Virginia). His newspaper work gave him enough financial security to get married in 1860 to Mary Eplee Morgan, daughter of an Episcopal Church rector. His first son was born a year later. When the Civil War broke out that year he travelled with the Army on its campaign to South Carolina, sending back dispatches. Returning to New York at the end of 1863 he was assigned the job of investigating cases of fraud for the Army. He was given the rank of Colonel to assist him in his investigations. When President Abraham Lincoln was assassinated in April 1865, Col. Olcott offered his services and was asked to come to Washington as part of the investigation. Later that year Olcott retired from his position of rooting out corruption for the War Department.
In 1868 he was admitted to the New York Bar. Specializing in insurance law, he set up his own practice with a partner. He was successful in his new endeavour, his reputation being such that the New York Tribune commented in an editorial, "Col. Olcott is a witness whose word nobody will question." He was popular, describing himself as "a man of clubs, drinking parties, mistresses." Perhaps he was too popular; he was eventually divorced from his wife on December 28, 1874. He probably would have gone on to play a part in city and state politics except for his meeting with H. P. B. at the Eddy farmhouse in Vermont.
At the Eddys in the remote township of Chittenden, full forms of the departed were appearing. If this was possible, it would have been "the most important fact in modem physical science," Olcott believed, and he decided to go and see for himself. What he found was published in the New York Sun of September 5, 1874, as The World of Spirits, Astounding Wonders that Stagger Belief. The mediums were two brothers, Horatio and William Eddy, described by Olcott as "hard-working rough farmers." At night visitors would gather in a room above the pantry, and first William Eddy would enter a closet hung with a shawl across the doorway, the lights would be dimmed and soon form after form would step out. During his five-day visit, Olcott witnessed 32 forms emerge, which he described according to type, age, dress and height.
On his return to New York the illustrated paper, the Daily Graphic, commissioned him to continue his reporting on the Eddys. Olcott's twice-weekly letters from Rutland, Vermont, ran from September 29 to December 11. He brought a platform scale and would weigh the various apparitions. The numerous tests he devised for the mediums were such that Sir Arthur Conan Doyle, the creator of the arch-detective, Sherlock Holmes, could write about Olcott's account, "it is difficult to suggest any precaution which he had omitted."
His sixteenth letter to the Graphic, printed on November 27, told his readers that "the arrival of a Russian lady of distinguished birth and rare educational and natural endowments, on the 14th of October was an important event." He went on to speak of her "very eventful life, travelling in most of the lands of the Orient, searching for antiquities at the base of the Pyramids, and pushing with an armed escort far into the interior of Africa," adding that "in the whole course of my experience, I never met so interesting and, if I may say it without offence, eccentric a character."
The meeting with this lady, Helena Petrovna Blavatsky, would be more eventful than he imagined. He kept in contact with her after his return to New York, and they met again in Philadelphia where she was now staying and where he went to investigate another case of mediumship. In the spring of 1875 he tried to get the scientific community to become interested in the growing phenomenon of spiritualism, and started a "Miracle Club" to test mediums to be sent to St. Petersburg to take part in a controlled experiment at the University there, but his attempt proved futile. Undeterred, at a meeting at Mme. Blavatsky's rooms in New York on September 7 to hear a presentation on the lost canon of proportion of the ancients, he suggested they form a society to study the mysteries of ancient and modern religion, philosophy and science. By October 30, the Theosophical Society was organized, and on November 17, Olcott, who had been elected President, gave his inaugural address.
Members expected it would be a revival of his Miracle Club, investigating and testing various forms of psychic phenomena, but Mme Blavatsky had something else in mind. She set to work on producing two massive volumes, Isis Unveiled, dedicated to the Theosophical Society, outlining the mysteries of antiquity. Membership dwindled down to the point where, Col. Olcott reports, it was only himself, Mme. Blavatsky, and the chandelier, deputed to complete the necessary number to form a quorum, to execute the Society's business.
By 1878 Col. Olcott and Mme. Blavatsky were carrying on a correspondence with Buddhist monks in Ceylon and members of the Arya Samaj, a Hindu reform movement started by Swami Dayanand, in India. At the end of the year, Olcott, at the age of 46, left for India with Mme. Blavatsky and two brave members. A new life would now begin for him. As President of the Theosophical Society, Olcott travelled the sub-continent, lecturing on behalf of the Society, organizing branches, until by 1885 a network of 87 branches were established. In Ceylon, in addition to his lecturing, he helped start schools for Buddhist children. In 1883 alone he estimated that he had travelled 16,500 miles throughout India and Ceylon.
The record of his work for Theosophy, Old Diary Leaves, conveys something of his journeying in all kinds of conveyances, from railway carriage to carts drawn by oxen. Representative is his itinerary in rural Ceylon, each day starting with "the arrivals at villages in the dawn; the people all clustered along the road to meet you; the curiosity that must be gratified; the bath under difficulties; the early breakfast of coffee and appas - a thickish sort of rice cakes - with fruit; the visit to the monastery; the discussions of plans and prospects with the Buddhist monks; the lecture in the open air, or, if there be one, the preaching pavilion, with a great crowd of interested brown-skinned people, watching you and hanging on your interpreter's lips. Then come the spreading of the printed subscription-sheets on a table, the registering of names, the sales of Buddhist tracts and catechisms; the afternoon meal, cooked by your servant between some stones, under a palm-tree; perhaps a second lecture for the benefit of newly-arrived visitors from neighboring villages; the good-byes, the god-speeds of rattling tom-toms and squeaky gourd-pipes, the waving of flags and palm fronds, the cries of Sadhu! Sadhu! And the resumption of the journey in the creaking cart."
He also travelled to Burma and Japan, urging dialogue between the various Buddhist groups. When he died at Adyar on February 17, 1907, his funeral was attended by representatives of the various regional religious groups. In a letter to a colleague in 1893, he summed up his contribution when writing, "if I have worked for the Buddhists, so have I for the Hindus, the Parsis, the Mohammendans, the Jews, and received the blessing of each".
What is God?

Since the beginning of time, God is an integral part of humanity. The belief in the existence of God is central to man's life and culture. Most people believe in the existence of God in one form or another, the relatively few exceptions being the atheists and the agnostics. The former deny or disbelieve the existence of God while the latter hold the view that nothing can be known of the existence of God or of anything beyond material phenomena. In other words, barring those few exceptions, mankind has a firm belief in God. However, one's perception of God may differ dramatically from another. Some believe that there is only one God, others believe in an entire pantheon of Gods. Religionists further demarcate their Gods and demand faith that divides humanity into different sects. Some believe that their Gods have human attributes and are capable of being angry, jealous and being offended. Some believe that their Gods have to be perpetually praised and reminded of Their own Greatness. Others believe their Gods could be placated and ingratiated with offerings in return for prayers to be answered. Some people are inculcated since young to be God-fearing. Others are reminded that only those who believe in their Gods can be saved and non-believers will suffer eternal damnation. Every tradition seems to have its distinctive God. Can there be a different God exclusively for a specific religion? Can any religion have an exclusive claim to the only ONE GOD? If not, what is God?
On 13th March 2010 at 5 p.m. our Hon. Secretary, Lily Chong, will give the theosophical view of God based on the comments of the Great Adepts and prominent theosophists including H. P. Blavatsky, C. W. Leadbeater and Annie Besant. Don't miss this interesting talk.