The following articles are reproduced from the September 2017 Newsletter to members. Non-members may or may not be able to relate to the contents.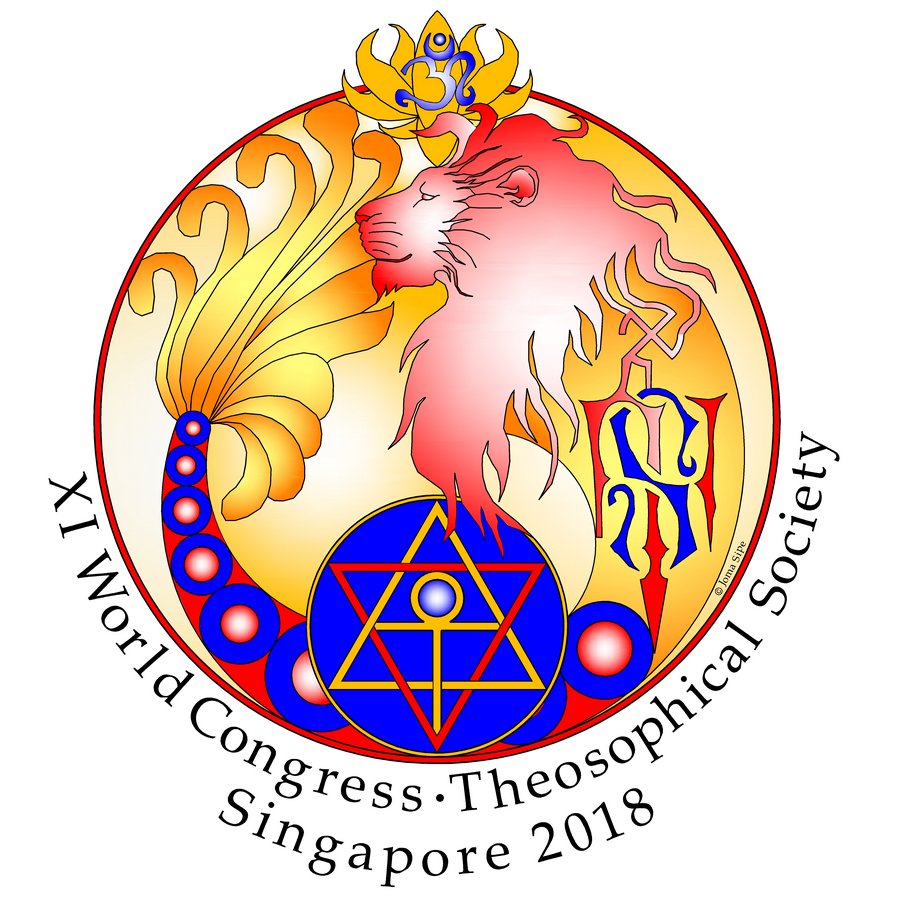 World Congress
The term "World Congress" refers to international gatherings of the Theosophical Society (TS) held at least seven years apart in various cities of the world. This is in accordance with the Memorandum of Association and Rules and Regulations of the Theosophical Society as incorporated at Madras, India, in 1905. In Article 47 "World Congress," the rules state: "Not more than once in every seven years a World Congress of The Theosophical Society may be held at a place and date to be fixed by the General Council, but so as not to interfere with the Annual Convention."
The First World Congress was held in Paris, France, in 1921. Clara Codd wrote of Annie Besant's lecture: "When she spoke to the Sorbonne at the First World Congress we held in Paris, we all gave up our seats to accommodate the thronging French crowds, for Mrs. Besant spoke in French." B. P. Wadia spoke on Will the Soul of Europe Return? The Rapp Square headquarters building of the French Section was dedicated during this congress. Professor Jean Émile Marcault "was one of the outstanding features of the World Congress" in his excellent translations of speeches from French to English and English to French.
In 1925, being the 50th Anniversary of the Theosophical Society, the convention at Adyar was called a Jubilee Congress.
The Third World Congress was held at the Hotel Stevens in Chicago, United States, in 1929. Speakers included Annie Besant, George S. Arundale, Rukmini Devi Arundale, C. Jinarājadāsa, Geoffrey Hodson, Dorothy Jinarājadāsa, Clara Codd, A. P. Warrington, L. W. Rogers, and Mrs. C. W. Dykgraaf. The meetings of the World Congress were held in the Ball Room of the Stevens Hotel. It was combined with the Convention of the American Section. As the United States was so far away, the only European delegate was the veteran Russian, Madame Kamensky. Mr. Hodson was the star speaker after Dr. Besant, and the Congress and Convention closed as was the custom with the American Section in those days, with a huge banquet, at which everyone had to tell a story.
The Fourth World Congress was held in Geneva, Switzerland, in 1936. Clara Codd described that event:.
"This time we met in the Hall of the League of Nations, generously lent to us for the occasion. We each sat at a large table. Underneath it a disc could be turned and ear phones were attached. There were eight points to which one could turn the disc and at each, one heard through the ear phones a current translation of the speech being delivered, in any one of eight languages. This was done by an interpreter sitting in a little booth under the stage, and speaking the translation into a telephone simultaneously with the speaker...
At Geneva I saw again some of my American friends. The American General Secretary, Mr. Sidney A. Cook, had brought over such a lovely blue and silver car that it attracted Swiss crowds wherever it was parked."
The Second World War prevented the holding of a World Congress in the next decade. In 1949, the General Council decided that 1954 would be a suitable time for a World Congress, but none was held as planned. It was not until 1966 — or thirty years after the last one — that another Congress was held. The Fifth World Congress was held in Salzburg, Austria, in 1966. John B. S. Coats was the principal organizer of this congress. Other participants were International President N. Sri Ram, Bhagirathi Sri Ram, James S. Perkins, Kathrine Perkins, Clara Codd, Felix Layton, Eunice Layton, Geoffrey Hodson, and Sandra Hodson.
The Sixth Congress or Centennial World Congress was held in 1975 to commemorate the centenary of the Theosophical Society. It was held in New York City where the TS was founded a century before. It was attended by the leaders of all three independent Theosophical Societies: the TS (Adyar), TS (Pasadena) and United Lodge of Theosophists. According to one observer, the lecture by Boris de Zirkoff called "The Dream that Never Dies," was "truly a high point of that week-long gathering."
The Seventh World Congress was held in Nairobi, Kenya, in 1982, followed by the Eighth in Brasilia, Brazil in 1993. The Ninth World Congress was held in Sydney, Australia, in 2001 and the 10th World Congress was held in Rome, Italy in 2010.
The Eleventh World Congress of The Theosophical Society is scheduled for August 4-9, 2018, in Singapore. This will be the first time the World Congress is held in Asia.
References: Theosophical Encyclopedia and Theosophy Wiki

Membership Renewal
We are truly appreciative of your support. You have supported the Singapore Lodge Theosophical Society in various ways. Some of you have volunteered as co-workers of our lodge, helping in the management and running of the T. S. in Singapore. Others have made it a point to come regularly for lodge meetings, thus helping to generate beneficent thought powers with far reaching effects and making the lodge a vibrant spiritual centre. Some have donated generously to our coffers. Still, a large percentage of members have not been able to participate actively in the activities of the lodge for one reason or another. Saturday, although the preferred day for lodge meetings for most members, is not the best day for others. Unfortunately, some members have other commitments on Saturdays and are therefore unable to come for lodge meetings. For that very reason, we decided to conduct the Mahatma Letters Study Class on a weekday evening. Indeed, we realize that there is no 'perfect' day that can suit all members. Over a period of time, mainly as a result of infrequent attendance, some members begin to lose interest or find themselves increasingly indifferent to our cause. These same members are the ones who are prepared to allow their memberships to lapse. We have lost many members this way.
We need members for very good reasons, not least of which is the financial support required. As our only means of subsistence is membership subscriptions, the more members we have the more viable we will become financially. In this respect, I am happy to say that we do have many members who remain sympathetic to our cause. Many of our members, though not active owing to other commitments, have found it worthwhile to continue paying their subscriptions year after year. Although we hardly see this group of members—shall we call them the invisible helpers—we are grateful to them all the same for their continued financial support. That is perhaps the next best thing that we may expect from members—renewal of subscriptions—if they cannot be with us physically.
It is that time of the year again—membership renewal time. Those members who have the Society's interests at heart and those who continue to relate to our cause will no doubt continue to support the Society financially, if not physically, by paying their annual subscriptions and continuing their membership. Those members who have not been coming to the lodge may alas wonder if they should or should not continue their memberships with the Society. To those of you, my friends, who find yourselves in such a predicament, may I share some thoughts with you?
All of us joined the Theosophical Society for pretty much the same reasons initially. We had a strong interest in theosophical teachings or we could relate to the ideals and objects of the Society or we believed in spiritual philanthropy and the Society's cause. All these do not change simply because we do not go to the lodge anymore. Indeed, your support is required more than ever to ensure the survival of the lodge for posterity. In order that future generations will continue to be inspired and guided by Theosophy, we must all do our part to preserve this institution—the Theosophical Society.
Should you think about not continuing your membership, you may wish to ask yourself why not? Just because you don't have time to go to the lodge anymore? We know that is not a good enough reason, for if we cannot support the T. S. physically, we can certainly support it financially. Because you cannot afford it? At $69 per annum or less than $6 per month, the subscription is quite a nominal sum and should not be a problem for anyone who is gainfully employed. Even at the sacrifice of other things, it is for a noble cause. Consider it charity if you wish. Because you cannot relate to the ideals and objects of the Society? Try to recall why you joined the T. S. in the first place. What has changed? Certainly not the teachings nor ideals.
The Singapore Lodge Theosophical Society needs all the support it can get to carry out its role as a part of the great theosophical movement worldwide. Karma has brought you to the Society for whatever reason. We hope you will not sever this karmic link.
For those of you who do not wish to be bothered with the annual reminders, you may choose to renew your membership automatically by setting up Giro payments or by standing bank transfer instructions through your own bank. More than 80 members have already made such arrangements. You can join this growing group by giving us your Giro instructions by 5 September 2015. Your continued membership and financial support will most certainly make a difference to the lodge's viability. We are counting on your continued financial support!