The Singapore Lodge Formed in 1889
The Singapore Lodge of The Theosophical Society was formed by none other than the President-Founder, Col. H. S. Olcott, on January 24th, 1889, with 19 members. Today we have a few hundred members from diverse backgrounds, nationalities, races, religions united by a common interest - in studying and understanding the laws of nature. Application for membership in Singapore should be made on the prescribed form which can be downloaded here. Membership subscription is only S$69 per annum for the Singapore Lodge. New members pay an entrance fee of S$20. Students need only pay half the amount. To join the Singapore Lodge Theosophical Society.
One of the many privileges of membership of The Singapore Lodge is access to the large collection of library books, many of which are out of print. The library collection started when the Singapore Lodge was formed in 1889 and includes some rare books. Indeed many of the books in the library are physically over a hundred years old.
For any enquiries, please call or write to:
The Secretary
The Singapore Lodge Theosophical Society
24 New Industrial Road
#03-09 INSPACE
Singapore 536210
Tel: 6732-7727
Open weekly on Saturdays from 4 pm to 7 pm
except public holidays
Contact us: info@singaporelodge.org
Nearest Bus Stops
62019 aft Rochdale Rd
550 m 6 min walk
22, 24, 43, 58, 58A, 62, 62A, 70, 70A, 70M, 76, 80, 80A
62011 aft Bartley Rd
650 m 8 min walk overhead bridge crossing
22, 24, 43, 58, 62, 70, 70M, 76, 80
70301 aft Paya Lebar St
700 m 9 min walk traffic light crossing
22, 24, 28, 43, 58, 62, 70, 70M, 76, 80, 93, 158
Nearest MRT Stations
Bartley MRT Station CC12
Circle line
1.2 km 16 min walk
Tai Seng MRT Station CC11
Circle line
1.2 km 17 min walk
Using Public Transportation
Using public transportation, the recommended route for the shortest walk is as follows:
Alight at Serangoon MRT Station by North East (NEL NE12) or Circle (CCL CC13) lines.

Come out through Exit C

Go to bus stop at Blk 201 (Bus Stop 66359) and take Service 22, 43, or 70/70A/70M.

Get off 6 stops later at Aft Rochdale Rd (Bus Stop 62019).

Take a 6 minute walk as shown in the Google map below.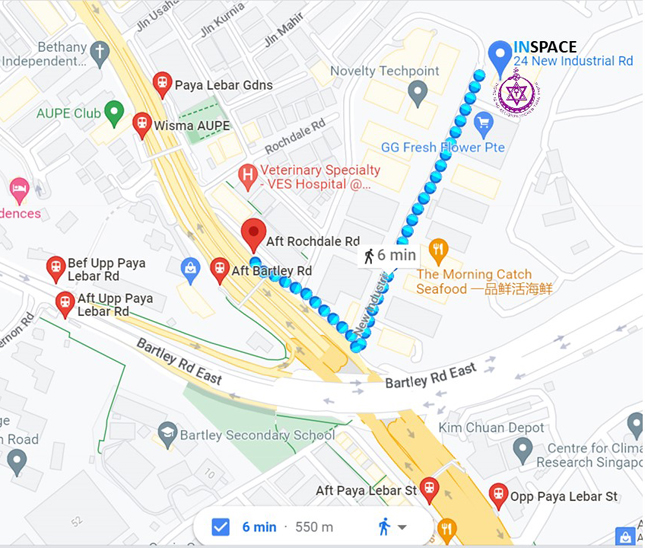 Driving
Those driving could come by PIE and take Exit 11 for Paya Lebar Road. If you are northbound on KPE take Exit 5 for Upper Paya Lebar Road. In any case, New Industrial Road can only be accessed from southbound Upper Paya Lebar Road. Drivers may find it more convenient to turn into Lim Teck Boo Road (the road before) which becomes New Industrial Road after the bend.