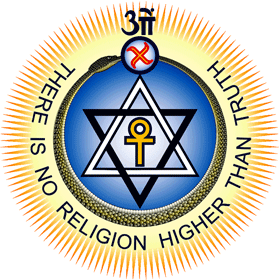 October 2004 Newsletter
The following articles are reproduced from the October 2004 Newsletter to members. Non-members may or may not be able to relate to the contents.
Financial Support for The Singapore Lodge
We are truly appreciative of your support. You have supported the Singapore Lodge Theosophical Society in various ways. Some of you have volunteered as co-workers of our lodge, helping in the management and running of the TS in Singapore. Others have made it a point to come regularly for lodge meetings, thus helping to generate beneficent thought powers with far reaching effects and making the lodge a vibrant spiritual centre. Some have donated generously to our coffers. Still, a large percentage of members have not been able to participate actively in the activities of the lodge for one reason or another. Saturday, although the preferred day for lodge meetings for most members, is not the best day for others. Unfortunately, some members have other commitments on Saturdays and are therefore unable to come for the lodge meetings. Indeed, we realize that there is no 'perfect' day that can suit all members. Over a period of time, mainly as a result of infrequent attendance, some members begin to lose interest or find themselves increasingly indifferent to our cause. These same members are the ones who are prepared to allow their memberships to lapse. We have lost many members this way.
We need members for very good reasons, not least of which is the financial support required. As our only means of subsistence is membership subscriptions, the more members we have the more viable we will become financially. In this respect, I am happy to say that we do have many members who remain sympathetic to our cause. Many of our members, though not active owing to other commitments, have found it worthwhile to continue paying their subscriptions year after year. Although we hardly see this group of members—shall we call them the invisible helpers—we are grateful to them all the same for their continued financial support. That is perhaps the next best thing that we may expect from members—renewal of subscriptions—if they cannot be with us physically.
It is that time of the year again—membership renewal time. Those members who have the Society's interest at heart and those who continue to relate to our cause will no doubt continue to support the Society financially, if not physically, by paying their annual subscriptions and continuing their membership. Those members who have not been coming to the lodge may alas wonder if they should or should not continue their membership with the Society. To those of you, my friends, who find yourself in such a predicament, may I share some thoughts with you.
All of us joined the Theosophical Society for pretty much the same reasons initially. We had a strong interest in theosophical teachings or we could relate to the ideals and objects of the Society or we believed in spiritual philanthropy and the Society's cause. All these do not change simply because we do not go to the lodge anymore. Indeed, your support is required more than ever to ensure the survival of the lodge for posterity. In order that future generations will continue to be inspired and guided by Theosophy, we must all do our part to preserve this institution—the Theosophical Society.
Should you think about not continuing your membership, you may wish to ask yourself why not? Just because you don't have time to go to the lodge anymore? We know that is not a good enough reason, for if we cannot support the TS physically, we can certainly support it financially. Because you cannot afford it? At $69 per annum or less than $6 per month, the subscription is quite a nominal sum and should not be a problem for anyone who is gainfully employed. Even at the sacrifice of other things, it is for a noble cause. Consider it charity if you wish. Because you cannot relate to the ideals and objects of the Society? Try to recall why you joined the TS in the first place. What has changed? Certainly, not the teachings nor the ideals.
The Singapore Lodge Theosophical Society needs all the support it can get to carry out its role as a part of the great theosophical movement worldwide. Karma has brought you to the Society for whatever reason. We hope you will not sever this karmic link.
For those of you who do not wish to be bothered with the annual reminders, you may choose to renew your membership automatically by setting up Giro payments or by standing instructions through your own bank. Your continued membership and financial support will most certainly make a difference to the lodge's viability. We are counting on your continued financial support!
Indo-Pacific Conference
The Indo-Pacific Theosophical Conference is held once every three years in one of the member countries in the Indo-Pacific region. The triennial conference is organized by the Indo-Pacific Federation of the Theosophical Society whose current President is Bro. Pedro Oliveira, a dedicated TS worker who was also a past International Secretary of the Theosophical Society.
The forthcoming conference will be hosted by our Singapore Lodge at RELC. This is an excellent opportunity for our local members to participate. So far more than 60 overseas members have registered for the 9th Triennial Conference. They are coming from Australia, Bangladesh, India, Indonesia, Malaysia, New Zealand, Pakistan, and the Philippines. We even have participants coming all the way from the U. S. A. and South America. Think of how much travel expenses all these overseas members would have to incur just to attend this Conference which is held in our home country. It would be a pity to miss this important event as it would be a long time before the Conference returns to Singapore.
Participants to the 9th Triennial Conference will get the opportunity to meet illustrious theosophists including:
Mrs. Radha Burnier, The International President

Ms Joy Mills from the U. S. A.

Mr. Pedro Oliveira, President of the Indo-Pacific Federation of the TS

Mrs. Linda Oliveira, National President of the Australian Section

Mr. S. Sundaram, General Secretary of the Indian Section

Mr. Vicente Hao-Chin, Jr. President of the Philippine Section

Mr. John Vostermans and Mr. Charles Sitwell, President and Vice President of the New Zealand Section

Ms. Vicki Jerome, Secretary of the Indo-Pacific Federation of the TS

Mrs. Terezinha Kind from Brazil, President of the Inter-American Theosophical Federation of the TS

Dr. K. V. K. Nehru from India
These are all serious students and many are authorities on theosophical subjects.
Those who have not met Joy Mills, who is an octogenarian, may be interested to know that she is an international lecturer for the Theosophical Society, has held numerous positions within the Society, including President of the American and Australian Sections; International Vice President; Director, School of the Wisdom, Adyar, India; and Director, Krotona School of Theosophy. She has authored and edited numerous books, and her articles have appeared in theosophical journals throughout the world. Joy Mills has been a student of theosophy for over 60 years and is a world-renowned teacher of The Secret Doctrine and The Mahatma Letters.
It would be an excellent opportunity for members of the Singapore Lodge to meet with all these dedicated workers of the Theosophical Society. Registration and conference fees amount to $170 (incl. 3 lunches and 6 tea breaks) plus $30 if you wish to join in the official dinner on the first evening. Don't miss this unique opportunity! It is not too late if you register immediately! For more information about the conference, contact the executive committee or go to our webpage at www.singaporelodge.org/ipc.htm.
Why Vegetarianism?

The Theosophical Society does not have any dogma and does not impose on its members any restrictions with respect to personal preferences, be it religion, method of meditation or diet. It may be therefore curious to the uninitiated why most of the leaders of the Society are vegetarians. Is there something they know that makes them so? On the other hand, it is also true that vegetarianism is one of the prerequisites when a member joins the Esoteric School of Theosophy. Then again, why? Another case in point are the Theravada Buddhist monks. Although this particular Buddhist tradition does not require their bhikhus to be vegetarians, you will find that the elders in the Sangha are mostly vegetarians.
As a matter of fact, there is a growing population of vegetarians world-wide—a greater awareness, perhaps, of the benefits of being a vegetarian. Consequently, these days, when one travels around the world, it is not uncommon to find a vegetarian section in the menu of a regular restaurant to cater for those who observe a strict vegetarian diet. So what motivates more and more people to become vegetarians voluntarily? And why do some schools of occultism, such as our EST, make vegetarianism mandatory for its members?
When asked, some would say they are vegetarian either because of religious or health reasons. Broadly speaking, other than those who were born in a vegetarian family and raised as one, a person becomes a vegetarian for one or both of the following reasons. Firstly, it has to do with pursuit of good health or occult development. Most, if not all, true occultists and earnest students of occultism are vegetarians. In reply to the question "Is it necessary to be a vegetarian in order to be an occultist and does vegetarianism help one on the path of occultism?", Mr. Geoffrey Hodson, a devoted theosophist and a renowned clairvoyant answered "Yes!" on both counts. We are what we eat. Students of theosophy know that in addition to the physical body, we have several other subtle bodies, each of which is affected greatly by what we eat. Secondly, there are many who became vegetarian simply because they do not wish to take life, out of compassion, love of animals and respect for other living creatures. Hence, while the first reason might be termed selfish the second is purely altruistic.
Lily Chong will give a comprehensive talk on October 2, 2004 at 4 p.m. on her research into vegetarianism, using copious illustrations to take us through various facets of the subject. In the talk she will debunk the myth on the lack of nutrition of a vegetarian diet. She will also show us the consequences of the demand and supply of animal products, including a video show on animal farming. Come to the talk and delight in the merits of vegetarianism. You may bring your friends along for this talk.

Theosophy For Everyone
Invite your friends to come and see this introductory video on modern Theosophy—the Science of Life and the Philosophy of Living.
Previous Home Past Issues Top Next