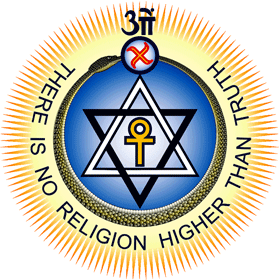 March 2009 Newsletter
The following articles are reproduced from the March 2009 Newsletter to members. Non-members may or may not be able to relate to the contents.
The Light is All about Us

Radha Burnier
Reprinted from On the Watch-Tower in the December 2008 edition of The Theosophist
CWL quotes, 'The light is all about you', but we have to open our eyes to see. We open our physical eyes and we see what is going on at the physical level. That is all. But if we open our inner eye, we begin to see the reality of what is wrong, and that is very important. If we see what the average person sees there are numerous things which can make us excited. In fact we like being excited; life becomes very boring if it goes on the same way all the time. There must be some people to dislike, some people about whom we make an assessment, things about which we have an opinion! All these things are there, and we think they are very important.
The brain can carry out only certain things. A body is taken for this incarnation, through which we are supposed to gain some knowledge. There are extremely intelligent people — scientists, philosophers, etc. — who think there is nothing beyond what they understand. But that is not so, because it is only a little part that one understands. Life is all around us, but we open our eyes only a little bit to see a small portion of what actually exists. So we have to learn that our present opinions are by no means final. They may be completely off the track, or they may be only a little on the track. So let us not take ourselves too seriously, to make our lives follow what the ātmā would like us to do.
Through meditation we begin to see what is important and what is not important; and most of the things about which we feel concerned, help very little. We tend to worry over many small things, because we think of those things from the physical point of view. But they may not be as worthwhile as we think they are. When you worry about something and you tell everybody about it, it is just a way of doing nothing, of passing time. We can cause a lot of agitation in our lives by worrying about events, about people, about all sorts of things. But if we can generally keep a certain distance between ourselves and the events through which we pass, it would be better. Meditation means training ourselves towards higher things, without dropping the lower things that are necessary — what is important and what is not important, what is useful and what is not useful, as At the Feet of the Master points out.
Let us take the example of an animal which gets hurt. He has pain of course, but he lies quietly and allows the healing to take place. Healing becomes difficult in our case because of the way the mind works. One has to consider these things carefully, and not feel afraid if the mind becomes empty. Of course we have to make a difference between the emptiness which comes out of ignorance and that which is the result of knowledge. A cow may stand in the field chewing cud thinking about nothing in particular, but we have the capacity to think. We do not use that capacity in the right way. We think over the same things again and again, because it affects us. We have to see how the mind is coping in different situations. And if the mind is quiet, we should not worry about that.
Krishnaji used to say, when he was walking along the beach, that he was just watching, not thinking, not using the mind. That is a difficult thing for a person whose mind has developed, to do. But if the mind is under control, it helps; it knows when courage is necessary.
International Visitor

We welcome Bro. Hrishikesh Sharan from India. Bro. Hrishikesh has been a member of the Theosophical Society for almost 40 years. He is a National Lecturer for the TS in India and his area of specialization is Buddhism.
He was invited by the Australian Section of the Theosophical Society to attend workshop for five days at Springbrook, Gold Coast. He also visited Naarden, Holland and delivered talk there. He undertook the Hindi translation of the book "Light of Asia" by Sir Edwin Arnold, a book depicting the life and teachings of the Buddha; published in December, 2007.
Bro. Hrishikesh obtained his M.Sc. (Physics) from Patna University and LLB from Kolkata University. He also has a Post Graduate Diploma in Operations Research granted by the Operational Research Society of India.
He will be coming on 7 March 2009 at 5 p.m. to meet members of the Singapore Lodge Theosophical Society and to give a talk on "Buddha: The Greatest Scientist". This uncommon subject should be of great interest to Buddhists and non-Buddhist alike. Mark it in your calendar, come and listen to this talk by Bro. Hrishikesh.
Angels and Fairies

"The devas are a mighty kingdom of spirits, the next above humanity, just in the same way as the animal kingdom is the next one below it. You may think of them as great and glorious angels, but of course they are of many different kinds, and different degrees of evolution. None of them are so low down as to have physical bodies such as we have. The lowest kind are called kamadevas, and they have astral bodies, while the next higher variety have bodies made of lower mental matter, and so on. They will never be human, because most of them are already beyond that stage, but there are some of them who have been human beings in the past. When men come to the end of their evolution as men, and become something greater than human, several paths open before them, and one of these is to join this beautiful deva evolution." So wrote C. W. Leadbeater, in The Inner Life. Come and listen to what Lily Chong has to say on Saturday, 14 March at 5 p.m. about the "Shining Ones" in her talk including many interesting illustrations of angels and fairies. This talk was last given in June 2007 and it has been brought back by popular request.
Mahatma Letters Study Class

We are very happy to report a strong interest in the Mahatma Letter Study Class. To date, 85 members have registered and possibly more may join the class. We have also tallied the preferences of enrollees for the day of the week and time the class should be run. It appears that Tuesday 7 p.m. is preferred by the majority. The final tally will be announced next month. Among the enrollees are those members who were unable to participate in our Saturday programmes due to personal or business commitments. Indeed, the proposal to conduct the study class on a weekday evening is very much with this group of members in mind.
Those who attended the study class ten years ago will be happy to know that the facilitator intends share his observations of the original manuscript which he spent considerable time studying ever since. He will highlight the special features of occult significance observed in the original letters that were never published or commented on previously.
29th Edition of A Course in Theosophy

This is a reminder that as part of our continuing effort to achieve our twin-object of popularizing a knowledge of theosophy and induction of new members, we will be starting our 29th edition of A Course in Theosophy on Monday, 27 April 2009.
Theosophy encompasses the science of life and the philosophy of living and has helped many people in the world. All members can help in the mission of popularizing a knowledge of theosophy. You will be doing humanity a great service by reaching out and bringing newcomers to the Society, to expose them to the theosophical teachings. As the Master has said, "Spheres of usefulness can be found everywhere. The first object of the Society is philanthropy. The true Theosophist is a philanthropist who—'not for himself but for the world he lives'…" "This, and philosophy—the right comprehension of life and its mysteries—will give the 'necessary basis' and show the right pathway to pursue. Yet the best 'sphere of usefulness' for the applicant is now in his own land."
The schedule of the 29th edition of A Course in Theosophy is as follows:
27/4 (Mon.) 7 p.m. The Different Planes of Nature
29/4 (Wed.) 7 p.m. Man's Evolution
1/5 (Fri.) 7 p.m. Death & After
2/5 (Sat.) 3 p.m. The Astral Plane
4/5 (Mon.) 7 p.m. The Mental Plane
6/5 (Wed.) 7 p.m. Thought-Forms
8/5 (Fri.) 7 p.m. The Noble Eightfold Path
Get your relatives and friends to enrol online for A Course in Theosophy at singaporelodge.org/btc_dates.htm. They may also email act@singaporelodge.org to enroll. For details of the course, go to our webpage at www.singaporelodge.org/btc.htm.

Sungei Buloh Wetland Reserve Excursion Cancelled

It appears that most members have been to Sungei Buloh and have no interest to revisit at this time. The excursion to Sungei Buloh originally intended on 8 March is therefore cancelled.
Members are encouraged to suggest destinations for our future excursions which members and families are likely to enjoy. We look forward to taking up suggestions for some other excursions.
Library Notice

Books are classified as follows:

"A" for Theosophy
"B" for Religion, Philosophy & Science
"C" for Others


Each member may borrow up to 2 books at any one time.


Books may be retained for 4 weeks, after which they must be returned.


Renewal for an additional 4 weeks is allowed, provided the book is not reserved.


Books out on loan may be reserved.


A returned book may be borrowed by the same member again after a lapse of 8 weeks.


Donations for books overdue may be made in the Library Donation Box. A guide would be $1 book per week overdue.