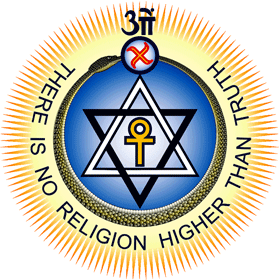 February 2016 Newsletter
The following articles are reproduced from the February 2016 Newsletter to members. Non-members may or may not be able to relate to the contents.
Countess Wachtmeister on Annie Besant
By Isaac Jauli
Reprinted from the November 2015 edition of The Theosophist
Dr. Annie Besant, the second international President of the Theosophical Society (TS), was born on 1 October 1847. She was so well known throughout the entire world, that any news related to her was read by everyone with the greatest interest. She had such a dramatic life that in many ways she symbolizes some phases of global development.
Besant's autobiography, written in 1893, describes her life until 1891, the year that marks the passing of Madame H. P. Blavatsky (HPB), Co-Founder of the TS with Col Henry Steel Olcott. Annie Besant's autobiography reveals such sensational events, that it is one of the most fascinating biographies that can be read. But 1891 only marked the midpoint of her incomparable and eventful life.
One of those events involving W. Q. Judge ensued after the departure of HPB and raised questions from some TS mem­bers around the world. In this regard, I would like to share the following facts in the life of Annie Besant, circulated in a message privately printed by the Countess Constance Wachtmeister at that controversial time ('H.P.B. and the Present Crisis in the Theosophical Society', by Constance Wachtmeister, Women's Printing Society, 66, Whitcomb St., Ltd, London, W.C. The Countess felt a responsibility to publish this message because she was one of the older members of the TS, and because she had been intimately close to HPB during the last six years of her life. Thus she felt deeply bound to share with TS members some thoughts that HPB had confided to her, because she felt perplexed by the events that were taking place surrounding the case of Mr Judge and Mrs Besant. The Countess stated in her printed message.
HPB always told me that her successor would be a woman, long before Annie Besant had become a member of the TS. She made several attempts with different people hoping to find one, but was quite unsuccessful, so she became terribly depressed and downhearted, saying 'There is nobody left to take my place when I am gone'. It was only when Annie Besant joined the Society that her hopes revived, for she seemed to feel that in her she would find a successor. HPB told me this.
But the Countess had strong doubts about this candidate that HPB had found, so she continued thus:
I had been so discouraged by the previous failures [failed potential successors], so I was determined to protect myself and not to accept Annie Besant unless entirely convinced of her disinterestedness of purpose, and of her integrity. I thought it just possible that she might be an ambitious woman, entering the Theosophical Society with the thought of governing, and getting all into her own hands, so I watched her narrowly, criticizing her every action from that point of view.
However, gradually the Countess was changing her mind on hearing of the life of Besant, a life of constant sacrifice and efforts to correct her mistakes. With an indomitable will power, she was overcoming the obstacles that were presented to her. In the words of the Countess: 'I was obliged to confess to myself that my surmises had been both unjust and wrong.' The evidence that finally convinced the Countess was stated as follows:
One day I saw Annie Besant enveloped in a cloud of light —Master's colour. He was standing by her side with his hand over her head. I left the room, went quickly to HPB, and finding her alone, told her what I had witnessed, and asked her if that was a sign that Master had chosen Annie Besant as her successor. HPB replied 'Yes', and that she was glad that I had seen it.
This was not the only experience of the Countess of that kind, as she recounts:
Again, one evening I accompanied Annie Besant to a small hall in London, where she lectured to workmen, when suddenly the Master was by her side, and she spoke with an eloquence which I had never heard from her lips before; it came flowing from her like a torrent of spiritual force. I may add that I have since then, here in India, had repeated proof of her being in direct communication with Master.
The Countess makes clear in her message that during the last year of HPB's life, when she was living on Avenue Road, Besant was spending some time every evening with HPB, receiving occult teachings. And before Besant left for America with a message from HPB for the American brothers, HPB said to the Countess:
Master really communicates directly with Annie Besant, her development in this life is a very rapid one; it is the sudden bursting through the shell of all the development and knowledge gained in her previous lives of occultism.
The Countess finally points out that HPB wrote a letter to W. Q. Judge dated 27 March 1891, and that she was in possession of a copy. In this letter HPB described Besant as:
. . . the soul of honour and uncompromisingly truthful . . . one single unbroken diamond, . . . transparent so that anyone can see how filled to the brim it is, with pure, unadulterated Theosophy and enthusiasm. UNSELFISHNESS AND ALTRUISM is Annie Besant's name. . . . Judge, she is a most wonderful woman, my right hand and my successor.
The Countess ends her message by saying: 'When after HPB's decease in London, I was informed that the [her signet] ring had been given to Annie Besant by her express directions, I knew that Annie Besant was her successor.'
We can finally say that 'to know a human being, you need to know about it from its birth to its death'. These are the words of Dr Besant, but we cannot fail to consider the incidents narrated by the Countess Wachtmeister, which help us have the vision of a great soul who disseminated Theosophical teachings around the world and knew how to make them reach the hearts of thousands.
The Swedish Countess Constance Georgina Louise Wachtmeister was a close friend and a confidante of Madame H. P. Blavatsky. Wachtmeister wrote an important account of her association with Blavatsky published under the title Reminiscences of H. P. Blavatsky and "The Secret Doctrine."
Mr Isaac Jauli is a member of the TS in Spain and a former General Secretary of the TS in Mexico, currently working in the TS Adyar Archives. Based on a talk given at the Adyar International Headquarters on 1 October 2015 which was Annie Besant's birthday.
Health and Disease in Man
On Saturday, 20 February 2016, at 5 p.m., our Hon. Secretary, Lily Chong will give a talk on Health and Disease in Man. This interesting talk will help us further understand the physical vehicle of man and the importance of perfect health for spiritual growth. Indeed, perfect health is a prerequisite for spiritual quest.
The attainment and maintenance of perfect health is the intelligent person's supreme material preoccupation. Health is the greatest physical necessity for every human being. Yet, despite the progress of modern science, the incidence of such diseases as leprosy, cancer, diabetes, hypertension and heart disease, and the mortality from them, tend to increase. More and larger hospitals, asylums and prisons are continually having to be built. How is this pressing problem, which now besets the whole human Race, to be solved? What are the fundamental laws governing health and well-being, and in what way is humanity so continually violating them that a perfectly and continually healthy individual is a rarity? How may health be defined? This talk looks at the cause of disease from both the medical and occult viewpoints and discusses the vital influence of mind and emotion in health and disease. The occult anatomy of man is considered, as are the roles played by the chakras, etheric double and prana in health and disease.
Come and listen to this most useful talk about health and disease in man and, perhaps, discover the keys to health and happiness. However, please take note that this talk is restricted strictly to members only.