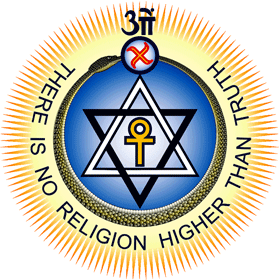 February 2008 Newsletter
The following articles are reproduced from the February 2008 Newsletter to members. Non-members may or may not be able to relate to the contents.
New Executive Committee
Our 2007 AGM was held on 29 December 2007. It was attended by 51 members in person, which is more than the required quorum, and 25 through proxies. The following office bearers and members of the new executive committee were elected without contention.
President: Chong Sanne
Vice President: Kam Chai Heng
Secretary: Lily Chong
Asst, Secretary: Tang Kwok Choon
Treasurer: Nancy Yeo
Asst. Treasurer: Choong Tsui Wei
Librarian: Vivekhananthan M.
Asst. Librarian: Serena M. L. Lee
Committee Members:
Lee Suit Fun
N. C. Raghava
Djimmy Ong
Choong Chi Pin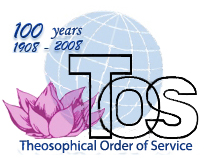 Theosophical Order of Service
The Theosophical Order of Service (TOS) is an international organization founded in February 1908 by Dr. Annie Besant, the second International President of the Theosophical Society for the relief of suffering, and is now spread all over the world. The motto which she chose for the Order was: 'A union of those who love in the service of all that suffers.'
Mrs. Besant, writing in The Theosophist, (March, 1908, p. 487.) said that the inspiration of this new Order may be found in an article by a Master of the Wisdom in Lucifer, January, 1888, which was "as a trumpet call, summoning The Theosophical Society to take up its great rôle as the pioneer of the Religion of Humanity, which will be the Mother of a new civilisation, and to prepare to lay the foundations of that civilisation in a way worthy of future master builders." The Order aimed at making Theosophy practical, for she felt that "The Theosophical movement must go in front of the great Socialistic movement which is spreading over Europe."
The inspiration for the Order of Services was derived from an article written by one of the Masters, and printed by H. P. B. in the January 1888 number of Lucifer, the key-note of which is given in the following quotations. "The problem of true Theosophy and its great mission are: first the working out of clear unequivocal conceptions of ethics, ideas and duties, such as shall best and most fully satisfy the right and altruistic feelings in man; and second, the modelling of these conceptions for their adaptation into such forms of daily life, as shall offer a field where they may be applied with most equitableness." "Theosophy must be made practical."
To help to carry out the second part of Theosophy's great mission, the Order of Service was founded by Mrs. Besant, to organise a number of members for various lines of practical service, and to permeate the outside world with the Theosophical ideals underlying the different departments of work.
The TOS is found in many countries in the world and is engaged in various service works that seek to alleviate suffering. TOS groups all over the world do such work as holding healing services, providing free medicine and medical aid, medical missions, visiting the sick, caring for the disabled, rehabilitation of malnourished children, character building for young people, helping prisoners, forming peace groups, donating funds to worthy causes, assistance during disasters, orphanages, scholarships, establishment of schools, doing animal welfare work preventing cruelty to animals, promoting vegetarianism, etc. TOS members need not be members of the Theosophical Society, although the management is.
Every country or region has its own National Director, while the International President of the Theosophical Society is always the President of the Order. Each National Director, guided by a Council, organizes the work in the area concerned and authorizes local groups to carry out any of the numerous philanthropic projects that are possible for it.
A magazine called The Service Link provides information and suggestions from time to time. Every year at the annual International Convention, the work of the Order is discussed in order to stimulate and improve activities.
Some members have lamented that while the TS gives out a wonderful knowledge of theosophy, it seems to be lacking in practical activities. This is where TOS comes in. While the Theosophical Society provides spiritual philanthropy, the TOS provides physical philanthropy, or theosophy made practical. We would recall these words from a Master of the Wisdom:
"Theosophy must not represent merely a collection of moral verities, a bundle of metaphysical Ethics epitomized in theoretical dissertations. Theosophy must be made practical, and has, therefore, to be disencumbered of useless discussion . . . It has to find objective expression in an all embracing code of life thoroughly impregnated with its spirit—the spirit of mutual tolerance, charity and love. Its followers have to set the example of a firmly outlined and as firmly applied morality before they get the right to point out, even in a spirit of kindness, absence of a like ethic Unity and singleness of purpose in other associations and individuals."
We do not yet have a TOS in Singapore. Would it not be wonderful to start a local chapter in 2008—the centenary year of the TOS? We hope those who love in the service of all that suffers will gather together and make this a reality! In this regard, we will hold our first TOS meeting on Saturday, 23 February 2008, to brainstorm what we might do and kick-off our TOS activities. We look forward to your participation and contributions.
My Visit to the Golden Link School in the Philippines
By Diana Dunningham Chapotin
Secretary of the International Theosophical Order of Service

At long last I got to visit the TOS in the Philippines last month. First I attended the heartwarming and uplifting triennial Indo-Pacific Federation Conference. Afterwards, a big group of us visited the Golden Link School. This is the theosophically-oriented kindergarten, primary and secondary school about which many have been hearing since its foundation by the TOS in 2002. Some of you have even been donating to it.
Well, the visit was very moving, as I am sure my fellow visitors would tell you. In the classroom where the children sang and made speeches to us, I sat in the row behind Linda and Pedro Oliveira from Australia. I lined myself up right behind Linda's head so those on the stage wouldn't see me with tears in my eyes. (In retrospect, I wonder if the person behind me was using my broad frame to the same end.)
So why was I - why were we - moved? It was because what we had been told about the school was true: theosophical values are taught successfully there. Dozens and dozens of the children flocked to welcome us at the gate, shaking our hands, looking right into our eyes, smiling warmly and saying, 'How do you do?' Not one seemed too shy to give a genuine welcome delivered with intent.
The talks they gave on the stage about what the school means to them and the values they have learned were amazing. It occurred to me (cynical as I am) that they might have had help writing them, or were programmed by their teachers, but I learned that this was not so. I was able to return alone with 'Sir Vic' later in the week and spend several hours visiting with the children class by class, then with a group of seventy older students and finally with the staff. What I saw were children and teachers who had a genuinely loving relationship, who had learned to trust each other and had acquired the confidence to share their inmost feelings and thoughts even in front of the whole class. I noticed how patient and respectful they were when their fellow classmates were struggling to express themselves. I noticed how kind the children were to the half-dozen slightly mentally handicapped children integrated into the school. I saw how loved the school Principal is - 'Ma'am Rekha'. She has poured her heart and soul into the school for five years, even sleeping in her office for the first two years!
What I also saw - and I hope this won't hurt Rekha and Vic - is a school under-equipped in terms of teaching resources. The library is ... well, minimal. Fortunately the TS members from Singapore who were in our group visit noticed this and have already started collecting suitable books to send. So has Maureen Paterson from New Zealand. Western classrooms are packed with equipment in comparison with the Golden Link School. I learned that the school has enough room for 400 students but that the roll is limited to 250 for lack of money. I had - and still have - the urge to return there with a bunch of fellow Theosophists who are trained teachers to find out what materials the staff would like to help them in their wonderful work. I would also like this visiting team to explore theosophical ideas with the students and staff. Vic spends two afternoons a week doing this and it would be wonderful to see how he does it.
It is great that the teaching medium is English. This meant that I was able to talk to whomever I wanted. I got to meet Ella, the little girl that the TOS in Canada is sponsoring. My smile in the attached photo of Ella and me is directed right at you, Lorraine and Henning! (I shed another tear when hugging her because I was filled with the desire to have the Canadian members beside me to meet her.)
My heart was entirely lost on Angelica, a 'slow learner' who came to the school with behavioural problems. Since she has been at the school, she is a transformed child. She followed Vic and me around from classroom to classroom during our visit, her eyes fixed on us solemnly and calmly. I found her attention span and composure remarkable.
What with the carbon imprint and all, I felt guilty flying all the way to Manila from Paris for just 12 days but I am really glad I did it and above all grateful to the TS and TOS in the Philippines that made the visit possible.
A union of those who love in the service of all that suffers.