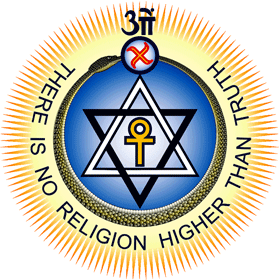 2004 October Programme
2nd October, 2004
4 p.m.

Why Vegetarianism?

Brought back by popular request, an illustrated talk by our Secretary, Lily Chong, on why we should consider being vegetarian. She will also talk about the practical aspects of being a vegetarian. A short video will also be screened . See story in this month's newsletter. Please note change of time.


9th October, 2004
5 p.m.

Initiation -- The Perfecting of Man (Part III)

Bro. Kam Chai Heng, our Vice President, continues with the second part of this useful talk about Man's spiritual quest based on the book of the same title by Annie Besant.


16th October, 2004
5 p.m.

Theosophy For Everyone

The science of life and the philosophy of living—a 52 min. video made by The Blavatsky Trust specifically to explain what Theosophy is—and isn't—its origins in the ageless wisdoms, and how it survived suppression and distortion to blossom anew as modern Theosophy.


23rd October, 2004
5 p.m.*

Q & A and Free Discussion

The Lodge will be open for a question and answer session and free discussion, with Chong Sanne as the moderator.


30th October, 2004
5 p.m.

Annie Besant

Continuing his series of talks on the history of The Theosophical Society, our Hon. Assistant Secretary, Bro. Tang Kwok Choon, will give a biographical sketch of our second International President, Dr. Annie Besant, who was described as a 'Diamond Soul' for she had many brilliant facets to her character. Born on 1 October 1847, she passed away on 20 September 1933, exactly 71 years ago.